What's the Infraspeak Network?
At the end of January 2023, Infraspeak proudly announced the Infraspeak Network

to the world. To recap: 
The Infraspeak Network

is an innovative, collaborative shared workspace that makes it easier for facility managers and third-party providers to do business and work together on maintenance work, procurement processes and more.
Anyone who's tried to purchase materials or hired external contractors to perform remedial works will be all too familiar with the tiresome, laborious admin involved. If we're being a bit diplomatic, you might describe the communication involved as a bit scattered and chaotic… but we can all think of a few other words that might sum it up a bit better!
It's a known problem — according to research by PwC conducted in 2022, 57% of companies wish their procurement processes to be more efficient whilst nearly 50% wish it cost less.
The Infraspeak Network

simplifies the procurement and execution processes of buying maintenance services up to the point of payment. Communication is streamlined and centralised like never before. Using simple workflows on the Quote Requests, Quotes, Sales and Purchases Infraspeak apps, you can:
Send platform collaboration invites
Send quote requests
Compare received quotes
Select the best one (and decline all the others)
Share the work order
Oversee the execution of the work order
Close the work order (and pat the technicians on the back!)
ALL of that is managed from this simple collaborative workspace.
And yet… even with these considerable improvements… we can make things even more intelligent by integrating the new Infraspeak Network

with an ERP.
First things first: what's an ERP?
An Enterprise Resource Planning (ERP) system is a type of software that helps organisations manage several business processes, such as finance, human resources, inventory, and supply chain management. The goal of an ERP system is to centralise data collected from these processes improving efficiency, reducing the risk of human errors, and supporting better decision-making.
Some of the most popular ERPs you'll no doubt be familiar with include:
Primavera
Conta Azul
Odoo
PHC
Sage
Microsoft Navision
Oracle Netsuite
We're proud to have comprehensive integrations available for all these solutions — all you need to do is ask! We'll do our best to help you choose wisely.

The missing piece of the jigsaw
The answer is simple, the benefits are many!
With the Infraspeak Network

, you would essentially boost the efficiency of everything from quote management/selection up until closing the work order. All the in-between steps (as described above) would be simpler, faster and more effortless than before, and you would, by all accounts, be a very happy customer!
But we want very, very happy customers! Integrating the Infraspeak Network

with an ERP is like finally fitting in the missing piece of the jigsaw.
Using an ERP to automate filling out POs or (pre-)invoices or updating your inventory after every purchase can have transformative effects on your operation. Some clients save 3-4 days a month with their ERP integration!
Deep diving into these integrations, we can see exactly how it will help to have the two systems connected and all departments kept in the loop:
Masterdata synchronisation: ERP clients will feed Infraspeak clients as well as Cost centres, Assets, Warehouses, and Articles structure (families, subfamilies and articles).
Stock consumption: Whenever you receive or consume an article on your ERP, it will be updated in Infraspeak and it will reflect across the relevant systems.
Financial data synchronisation: You can sync all kinds of costs and/or profits like materials, labour, travelling, parking, and meals, between both systems.
Material requests: Each time a material is requested at Infraspeak, it will trigger a material request workflow on your ERP. The whole process is done there, with no intervention and, as soon as the material arrives, it will update Infraspeak's request and close it as completed.
And of course… perhaps the most exciting of all…
Work order/inventory synchronisation: Each time a work order or a planned job is successfully closed in Infraspeak, all the consumed articles will be deducted from the stock count on your ERP.
ERP automation saves you a lot of time!
Each one of these automated functions may save you 15 minutes, meaning about 1 hour of work saved for every contracted service. Once you multiply that across all the contracted services and procured materials that you need to manage in a week, you can see how the hours stack up and the impact of finalising the sales cycle with an ERP is very considerable.
Think of it like this:
As the facility manager, the Infraspeak Network

will save you personally hours of time and effort by simplifying your procurement and supplier management workload.
Integrating it with an ERP is the cherry on the top — the thing that will help all your colleagues in other departments have full visibility over what the maintenance team is doing and help them to finalise crucial steps like invoices and inventory management.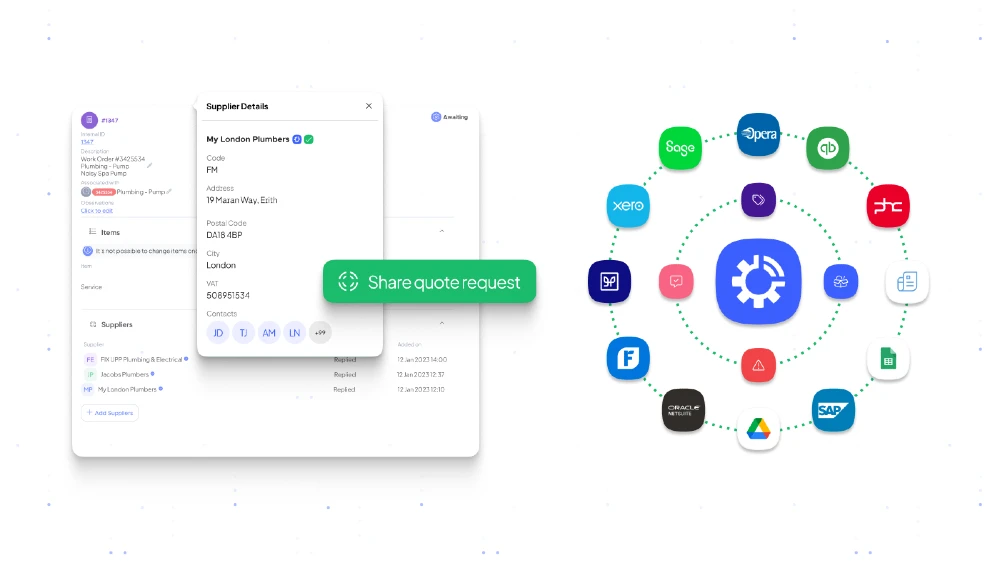 Feeling inspired? You know what to do.
Gone are the days of complicated integrations! Our open API means integrating the Infraspeak Network with an ERP like SAGE has never been easier. With a few clicks of a button, you can have a seamless data flow between the two systems.
But, clicking that button requires just a bit of expertise! That's where your trusty Integrations Success Manager comes in — they'll work with you to figure out which information is crucial for maintenance operations and which maintenance data is essential to your ERP. With their help, you'll be on your way to cutting post-work order completion admin in half!
The post Why should I integrate my ERP with the Infraspeak Network™? appeared first on Infraspeak Blog.
Source link