Enterprise Asset Management (EAM) is the process of tracking, monitoring, and maintaining physical assets and infrastructure. Asset-intensive organizations use EAM to keep an eye on their property and make sure everything's working as it should.
The idea is to protect assets and ensure they're productive and profitable for as long as possible. This involves monitoring the condition and performance of assets across their entire lifecycle — from procurement to disposal.
Below, we'll take a closer look at how EAM software can help. Specifically, how IMMP (Intelligent Maintenance Management Platforms) are helping asset management professionals and their organizations save money, be more efficient, and meet their obligations.
What is Enterprise Asset Management (EAM)?
All organisations are made up of people and physical assets. Over time, these assets will naturally suffer from wear and tear and require maintenance.
Enterprise Asset Management involves managing and monitoring such assets throughout their lifecycle. This allows assets to work optimally for longer with less unplanned downtime. EAM is now a multi-billion pound industry and is expected to be worth £4.8 billion by 2026.
EAM acts as a central store for asset work history and gives you the ability to see the big picture in real-time.
This lets you implement a proactive maintenance strategy rather than simply reacting to maintenance requests.
EAM's more comprehensive approach helps reduce costs and maximise the performance of physical assets. Without EAM, assets may not run at their best. This can reduce the performance of critical assets, affect productivity, and ultimately impact your bottom line.
EAM starts early at the capital planning stage and continues until you dispose of an asset. Throughout its lifecycle, you can then track the status and condition of assets. This includes:
Procurement
Installation
Daily-use
Maintenance
Compliance
Risk management
Disposal
How does EAM software work?
EAM starts with implementing a framework to categorise assets. While this can be something as simple as a spreadsheet, most organisations will use dedicated asset management software. You can either install this locally on-premises or use a remote cloud platform.
Asset managers can then edit asset details and add attachments as they wish. This can include important information such as documentation, manuals, and vendor contracts. Everything is kept together in one place, digitally.
Once assets are added, EAM systems make it easy to automate and manage the work order lifecycle. This includes preventive maintenance, issuing work orders, getting customers to sign off on invoices, and arranging work teams.
EAM also stores the status, repair and work history of each asset. This allows your EAM system to be used as a knowledge base for a facility's assets. This central data store can then be used to spot useful information and generate reports. You can then use this to identify inefficiencies, stay compliant, and help train staff.
Who needs EAM?
Any organisation that handles a large number of assets should implement an EAM system. In most cases, you'll be using EAM software if you are a maintenance manager, facility manager, or another kind of asset professional.
But EAM systems can be accessed by lots of different people though across different departments. These can all help keep asset information up to date and maintain accurate data.
Tell-tale signs that you need EAM software include:
Manually tracking assets using paper or spreadsheets
CMMS not providing accurate data
Growing backlog of work orders
Long asset downtime
High energy consumption facilities
Assets failing sooner than expected
What can Enterprise Asset Management software do?
The main function of an EAM system is to act as a knowledge base for all your assets. EAM acts as a point of reference for your company to keep asset data up to date, automate maintenance tasks, identify asset inefficiencies, and coordinate your field teams.
Whilst the bells and whistles of EAM systems can change from platform to platform, the core features include the following:
Monitor assets throughout their lifecycle
The most important feature of EAM is asset lifecycle management. Every asset in your company has a period of operating at peak performance before becoming inefficient. EAM helps extend this optimum operating life and identifies the point where repair and maintenance costs outweigh the cost of replacement.
Manage work orders (accountability)
Work order management is a core feature built into all EAM software. This helps you stay on top of maintenance requests. You can set enterprise asset management software to prioritise work orders automatically, with the status of each tracked in real time.
Co-ordinate and instruct field teams
EAM also helps you assign the right people to a job. Using EAM software, you can track the performance, training, and activity of individuals or entire teams. This allows you to deploy the right technicians to repair and maintenance tasks and can make auditing a lot easier. Your organisation can use mobile and NFC technology to update records on the fly, keeping EAM data accurate.
MRO inventory management
Using EAM software lets you take control of your supply chain and inventory too. At a glance, you can see stock levels of specific parts, past purchases, who your suppliers are, and even make forecasts. Understanding your company's demand for materials and supplies through all departments can help identify real savings and reduce downtime of critical assets.
Generate reports and track KPIs
Using EAM software, you can also automatically generate different types of reports. These provide insights that can help make your business more productive and identify areas that are costing time and money. You and your team can then use key performance indicators to track progress with easy-to-understand visuals and reports — making it a cinch to identify the cause of problems.
Manage contracts and compliance
EAM software allows you to manage and keep track of all your contracts and comply with PAS 55 standards. Contracts with vendors, employees, customers and more are all centralised within an EAM system. This makes it easy for you to track compliance, costs, and identify redundant contracts.
Key benefits of using EAM software
Some of the features of EAM software overlap with other solutions, such as CMMS. EAM sets itself apart, however, by acting as a central store of asset data. This gives you the ability to schedule maintenance automatically and communicate more effectively with everyone involved.
Centralise all your data
EAM software gives you a comprehensive overview of all your company's assets. This includes both on-site, fixed assets and mobile or remote assets. Using a single platform, a complex system of assets becomes streamlined into digestible information that can help you stay in control and handle work orders.
Complete lifecycle management
EAM provides a single framework to monitor the performance of assets and acts as a repository for information over their entire lifecycle. You can then use this asset data to improve maintenance processes and even predict behaviour over time.
Increase asset uptime
Use EAMs to find out when assets are underperforming using specific benchmarks and generate work tasks automatically. This helps you to take action before failure occurs and keep assets running at their best. Not only does this help you meet Environmental, Health and Safety obligations, but also reduces unplanned downtime.
Make decisions in real-time
EAM software makes it easy to prioritise repairs and maintenance. This allows you to give critical assets a higher priority, for example, to ensure they continue to run as efficiently as possible. Intelligent Maintenance Management Platforms, besides fulfilling all the criteria to properly manage and keep track of your assets, also put asset managers in touch with technicians and customers in real time using mobile alerts, therefore being an alternative to a traditional EAM. This speeds up your sign-off process and ensures you can communicate vital information quickly.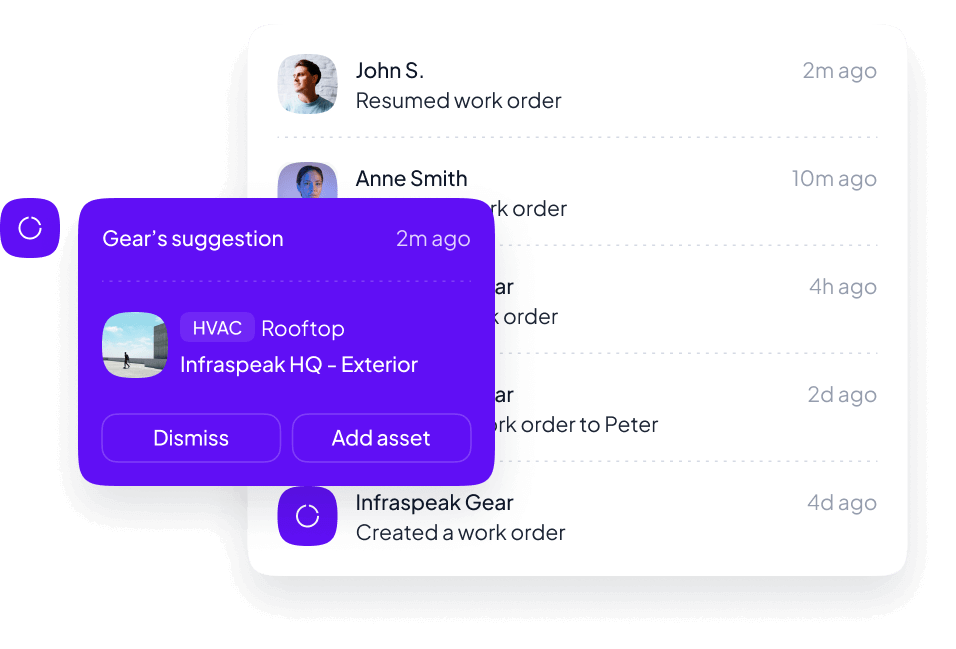 Aims of EAM
Companies use EAM software to track the condition of assets, so they can save money and be more efficient. EAM aims to make it easier for you to keep assets operating at their best for longer.
As discussed, EAM achieves this by acting as a hub for asset data. This not only streamlines the reactive maintenance process but enables predictive maintenance.
EAM systems aim to catch problems early to stop a small problem from turning into a big one. Predictive maintenance is one of the very best ways an asset-intensive organisation can save money.
In fact, a 2018 report found that companies that shift to a proactive repair schedule:
Boost uptime by 9%
Decrease asset costs by 12%
Extend asset lifecycle by 20%
Reduce associated risks by 14%
EAM helps asset professionals move away from a reactive approach towards a proactive one that is both preventive and predictive. As well as preventive scheduling and prioritising, EAM systems can utilise a wealth of asset data to keep you in the know about which assets may need attention.
What types of EAM are available?
You can implement EAM software on-site via local servers or remotely via the cloud. Both approaches have their pros and cons, but cloud-based platforms are generally considered the superior of the two:
SAAS/Cloud EAM
Easy and cheap to startup
No maintenance or updates required
Data secure
Highly customisable
Ongoing expense
Downtime issues
Cloud-based EAM software is offered on a subscription model, which you access through a website or mobile app. Subscription plans are typically offered on a monthly or yearly basis.
As everything's hosted in the cloud, there's no need to install software onto your computer or company servers. Instead, EAM platforms will host everything on their end, including storing your data securely in accordance with GDPR regulations.
This makes it a lot easier and cheaper to implement an EAM system. There are no startup costs, as everything's ready to go. You also don't need to worry about maintenance or updates, as this is all handled on the platform's servers, not your own. Having everything on secure servers also means your data is safe.
Local EAM
Customisable
In-house support
In control of data
Complicated startup and integration
Can be expensive to maintain
Hard to scale
Often lacks mobile features
Having an EAM installed locally on your organisation's servers is another option. This involves purchasing EAM software, typically with a one-off fee. This gives you more control over the implementation of your EAM and how your data is stored, which be an important consideration for some information-sensitive companies that don't want third parties handling their data.
On-premise EAMs, however, are much harder to set up and install. Implementation will require IT specialists, and unforeseen issues are not unusual. Because of this, local EAMs can be more difficult to scale or relocate if necessary. Having things installed locally also means you're usually missing out on some mobile features that can keep remote asset data up to date.
IMMP
Highly customisable
Highly scalable
AI-based predictive maintenance
IoT enabled
Maintenance 5.0 ready
A third (and most advanced) option is an Intelligent Maintenance Management Platform (IMMP). This option resembles cloud-based solutions but is designed from the ground up to be human-centric and use technology to meet the needs of asset managers.
Infraspeak's IMMP solution achieves this by offering a highly customisable EAM interface. You can easily access third-party integrations and switch features on or off as required, making it highly scalable. Your organisation can even make use of IoT devices which can update asset data live.
AI is also utilised to accurately predict when assets require maintenance. Using complex algorithms, IMMPs learn from asset data and discover inefficiencies that may otherwise go unnoticed. Asset managers are then alerted via a human-first interface.
Choosing the right EAM software
While the features of EAM software are important, there are other things you should consider too.
Usability
Managing assets is a people-centric job that operates best on clear communication. The end-user of EAM software, therefore, shouldn't need a degree in computer science to arrange a lightbulb replacement. Instead, look for an EAM that has a user-friendly interface that still meets your company's needs.
Customisability
Ideally, your EAM should be ready to use from the start and easily preconfigured. Look for EAM options that can be customised to suit your asset management needs so you can maintain a focused, clear overview of your data.
Expense
Consider whether your company would prefer an ongoing subscription (cloud-based) or a higher, one-off expense (on-premise). This will ultimately be up to those who handle the budget within your company. Explaining the benefits and downsides of each can help form the best decision though.
Scalability
If your company may expand operations in the near future, it may be worth considering a cloud-based EAM. Scaling an on-premise EAM can be more difficult, and you may discover your local software is unable to expand to meet your needs.
Mobile capability
Comprehensive EAM systems will now feature mobile tools too. You can use these to alert relevant parties instantly. If your company handles mobile assets or those in remote locations, having mobile tech such as NFC tags can ensure the right machines are repaired and logged.
Customer support
Be sure to look for an EAM platform that has a robust customer support system in place. When things go wrong, you want to make sure there are channels of communication to get things sorted quickly. Look out for a prioritised ticket system, phone numbers, and live chat if possible.
Flexibility
The ability to combine dozens of native apps with software integrations and IoT devices is key if you're looking to create a tailored solution that adapts to your operation now and in the future.
Intelligence
The best EAM solution is the one that saves you time and money by mining your operational data and turning it into useful actions, such as time-saving automations, intelligent suggestions and timely alerts.
Collaboration
Wouldn't it be great if your EAM platform was also a shared workspace that could connect FMs with service providers, thus allowing for collaboration on the procurement of services and materials, and execution of maintenance jobs? You'll be glad to know that this is already possible.
EAM vs CMMS
It can sometimes be difficult to tell the difference between EAM and CMMS solutions. Both have proven essential to asset management, but there are some important differences.
CMMS systems manage the operational phase of an asset while EAM solutions encompass the entire lifecycle of an asset.
Generally, EAM software can do whatever a CMMS can, plus more.
The key difference between the two is that CMMS focuses solely on maintenance and uptime. This includes making sure an organisation has the necessary parts in stock, scheduling planned downtime, and processing work orders. Some CMMS solutions can also automate finance applications to approve purchases.
EAM, on the other hand, considers the entire lifecycle of an asset. This includes the design and installation stage all the way to disposal. Rather than just focusing on repair and maintenance, you can use EAM to ensure assets are fully utilised. EAM systems will focus on efficient, maximum uptime.
Both can handle on-demand work order management and schedule preventive maintenance. EAM wins out in terms of capabilities, however — automating more than just maintenance scheduling.
Enterprise asset management best practices
While enterprise asset management systems make your company more efficient and save money, you only get what you put in. EAM software relies on relevant, up-to-date, and accurate data to work best with everyone involved working in tandem.
Consider the following EAM best practices to get the most out of your software:
Prioritise communication between departments: even fixed assets can cross several departments over their lifecycle. This means ensuring everyone is plugged into the EAM system who needs to be to make sure maintenance and repairs are not upheld. This includes managers, operators, and technicians.
Log everything: EAMs act as a data repository for all your assets. This not only allows you to optimise asset lifecycles but also improves accountability and transparency. However, this requires everyone to be trained in logging asset data using EAM mobile apps for improved analytics.
Have clear rules & guidelines: to make everyone's life easier, have a clear set of guidelines regarding EAM. This should include the following:
Utilise mobile technology: Mobile EAM apps can drastically improve response rates and gain operational data. Field teams can scan asset NFC tags to pull up a manual in seconds and then report data within the same app. Customers and departments can be alerted of repair invoices to give the go-ahead instantly.
Set goals and monitor KPIs: Enterprise asset management software can help your company achieve specific goals. Establish goals for KPIs such as Mean Time to Repair (MTTR), Mean Time Between Failure (MTBF), and Overall Equipment Effectiveness (OEE) and utilise EAM to achieve your goals.
Industries that use EAM systems
Almost all business sectors now use EAM systems to track and maintain their assets. Asset-heavy industries that especially find EAM invaluable include:
Utilities: Gas, water, and electrical companies manage both fixed and remote assets. EAM allows these companies to bring together all of their assets under one platform and keep things running smoothly.
Gas & oil: Large energy companies use EAM to manage assets that can be located in challenging environments. Refineries and power plants make use of IoT devices and sensors to provide live data to EAM platforms. EAMs can use this rich, live stream of data for analytics and automatically generate optimisation reports.
Construction and manufacturing: You need a lot of stuff to make things. And, with the cost of materials becoming increasingly competitive, companies are looking for better business processes to stay competitive. EAM helps construction and manufacturing teams cut costs and be more productive by staying on top of asset maintenance and allocation.
Rail: EAM is also being used by staff to keep trains and railways running without a hitch. Dedicated asset management allows rail companies to analyse and visualise their assets in real-time. Asset managers can then make decisions on the fly, keeping everyone in the loop, including field teams. This is helping bring down maintenance costs and boost reliability.
Facilities management: Property management is also benefiting from EAM. Keeping the lights on and the doors open is essential to a successful business, but it's a lot harder than it looks. EAM solves this by allowing facility managers to monitor the entire lifecycle of assets such as HVAC units, elevators, and even light fittings. You can spot inefficiencies and potential issues easier and ahead of time.
Some Enterprise Asset Management success stories
Frostline
Using Infraspeak's IMMP solution, HVAC and solar panel company Frostline streamlined their operations. Repairs and maintenance were bottlenecked by inefficient communication and lack of information.
After integrating an EAM solution, Frostline technicians can find relevant information through their smartphones. Technicians can find manuals, work order info and everything else in one place. The InfraSpeak app also tracks time spent on each work order making invoices more accurate.
For Frostline, this has boosted their deal success rate by 40%.
Vila Galé Hotels
As one of the biggest hotel groups in Portugal, Vila Galé has over 8500 rooms and more than 3,000 employees spread across their 37 hotels. This means handling a lot of assets spread across multiple sites.
Vila Galé used Infraspeak EAM to reduce the response time and minimise the amount of micro-managing needed. Now, 80% of unnecessary exchanges have been eliminated, with staff able to retrieve information themselves.
As a result, Vila Galé managers spent less time on the phone troubleshooting problems — by 50%. This means guests were inconvenienced far less and for less time. This has not only helped protect physical assets but also Vila Galé's reputation.
Siemens (SLA Compliance)
As one of the world's biggest engineering companies, Siemens is responsible for the Bank of Portugal's infrastructure operations. This includes HVAC maintenance, space maintenance, and responsibility for onsite equipment.
Siemens successfully used InfraSpeak's EAM to meet the central bank's quality standards and deadlines. This has kept Siemens meeting their SLA requirements. Siemens' operations became more transparent and in accord with legal demands.
Siemens utilised mobile technology and NFC tags to make technicians more autonomous. This data is available to Siemens and the Bank of Portugal, improving transparency.
IMMPs are the future of asset management
The future of EAM involves embracing industry 5.0 and maintenance 5.0. These concepts involve the understanding that technology is ultimately there to make our lives easier.
We call such software Intelligent Maintenance Management Platforms (IMMP).
Fortunately, the future is already here. Infraspeak is an improved response to Enterprise Asset Management that puts the asset manager first.
Central to this evolution of EAM is AI. This helps transform abstract numbers and data into real actions automatically. You can integrate artificial intelligence to provide real-time analytics and help discover subtle asset behaviour patterns that can further boost efficiency.
For asset managers, this means smooth, streamlined workflows. For organizations and enterprises, this means a bigger bottom line and improved productivity.
Win-win.
Schedule a demo now to see the future of asset management in action.
Inefficient maintenance processes?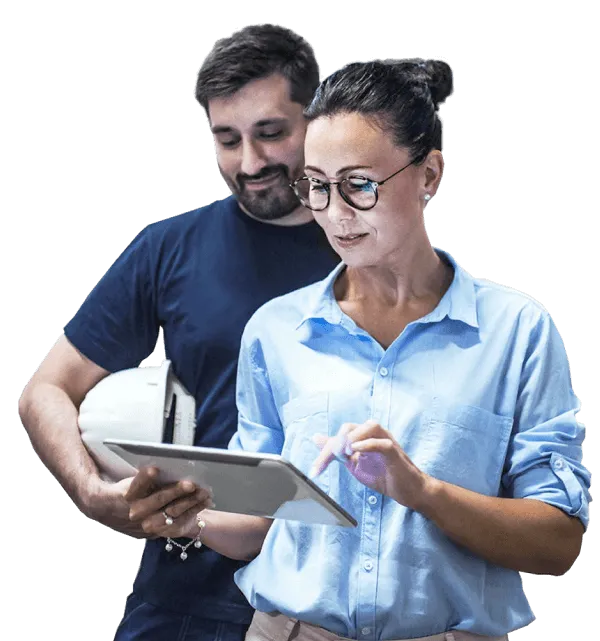 The post What is EAM? All you need to know about Enterprise Asset Management  appeared first on Infraspeak Blog.
Source link