Field servicing is an inherently challenging industry.
For starters, it involves a blend of proactive and reactive maintenance, and can extend to many types of technology, from lights and HVACs to complex industrial machinery.
Teams might work across different regions with various clients who have their own unique characteristics and service level agreements (SLAs).
Field service management aims to optimise field servicing by improvising organisation, centralising data, building reliable communication channels and implementing solutions for SLAs, compliance, etc.
This is your complete guide to field service management.
What is field service management?
Field service management (FSM) refers to the process of deploying, managing and optimising workers in the field – meaning outside of a business's premises.
In today's modern business and labour landscape, practically anyone could be a field worker, from real estate agents to salespeople and medical workers. In fact, a vast 80% of the world's workers are now 'deskless'.
Most frequently, FSM involves dispatching workers to conduct maintenance, servicing, repairs and other technical tasks required by a business's off-premises clients. FSM is essential for facility management and building management, where timely proactive and reactive maintenance can cut costs and drive efficiency for businesses and their clients.
What does field service management involve?
Managing workers in the field is a different ballgame from managing those on-premises.
Firstly, the field service management process is largely remote, so effective communication and optimisation are paramount. For example, if a technician reaches a job but doesn't have the equipment, parts and information they need, that trip may be totally wasted.
Field service management is the practice of managing the end-to-end service process for the benefit of all parties, including the business and its staff, technicians and customers/clients.
Here's what it involves:
Workforce management and project planning, including organising periodical and emergency maintenance tasks.
Managing work orders with all key information required by technicians, which covers asset lifecycle management, stock and procurement.
Organising stock and procurement to ensure field workers have access to the necessary resources.
Managing contracts, service level agreements (SLAs) and invoicing.
Analysing data across the end-to-end field service management process, from dispatch time to mean time between failures (MTBF) and mean time to repair (MTTR).
Applications of field service management
Facility management
Managing facilities involves a complex blend of proactive and reactive maintenance.
FSM is useful for dispatching engineers and specialists for repairs and inspections, monitoring equipment remotely, and providing an overview of facility resources.
Moreover, FSM helps businesses deliver on regulatory demands for sustainability and energy efficiency, e.g. by maintaining heating or HVAC systems.
Maintenance management
Post-sales maintenance and technical assistance teams can use FSM to augment their processes, cutting admin and lowering costs.
By centralising workflows, technicians gain autonomy and save time, enabling them to concentrate on the job without unnecessary admin. For example, maintenance provider AvacPiquet saved 8 hours of admin a week after employing an FSM solution.
Healthcare
FSM is crucial for the healthcare industry to maintain and update medical devices.
FSM assists with asset management, documenting and dispatching technicians, tracking maintenance history and ensuring regulatory compliance.
Hospitality
FSM taps into a new generation of hospitality management, ensuring maintenance tasks are scheduled and tracked, expenses monitored, and compliance adhered to.
This enables hotels to guarantee their condition and cleanliness and rack up those all-important 5-star reviews. For example, Intercontinental Hotels reported a 70% reduction in breakdowns after integrating an FSM solution.
Offices
Office upkeep and maintenance typically involves multiple tasks and processes, such as electrical, lift and HVAC maintenance. FSM supports these tasks with smooth, automatable workflows.
For example, Sotécnica reported an 88% reduction in preventative maintenance work order volume by implementing field service management solutions.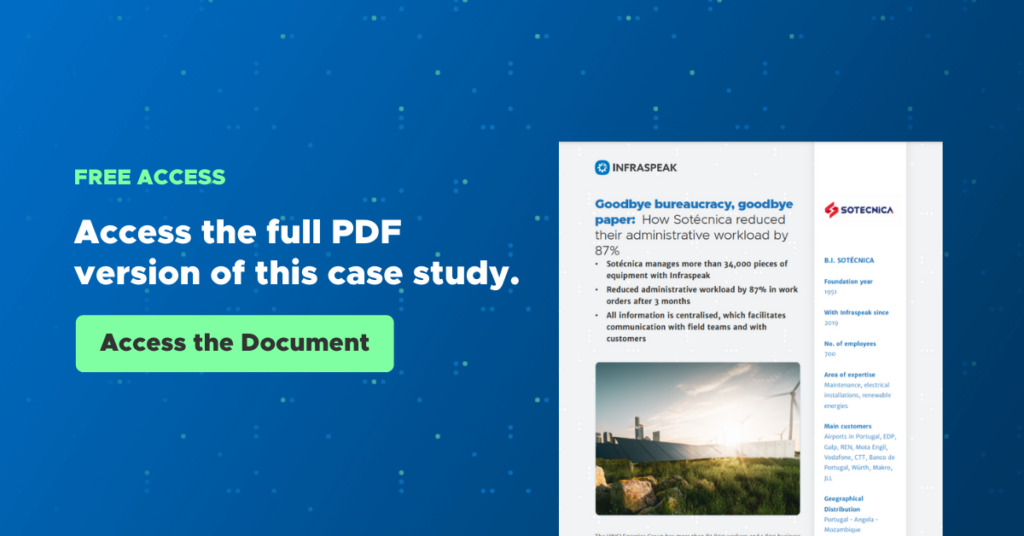 Retail
FSM helps keep retail environments in pristine condition, reducing breakdown rates and ensuring business uptime.
The retail sector depends on timely maintenance and interventions, which FSM helps deliver.
Benefits of field service management
Increased productivity and uptime
Modern field service management tools and processes replace clunky manual systems, boosting technician productivity.
By identifying necessary repairs earlier in the asset lifecycle, uptime is enhanced by preventing minor issues from developing into fully-fledged faults. This is essential for always-on manufacturing.
Empowers technicians
And what about empowering your field service technicians?
By providing them with remote assistance and mobile capabilities, you can help them stay safe and compliant while equipping them with the information they need to perform tasks efficiently.
Reducing costs
Fundamentally, field service management is about saving time. And as the old adage suggests, time is money!
You can cut labour and admin costs by using data and insights to complete maintenance tasks at the right time and in the most effective and efficient manner.
Boosting customer satisfaction
Finally, increasing customer satisfaction should always be a top priority – and most businesses aren't tolerant of avoidable downtime. 
Delivering the best outcomes possible requires a well-oiled workflow, which FSM solutions support.
FSM software (FSMS)
Listing the benefits of FSM is all well and good, but how do businesses actually deliver these outcomes? Enter: field service management software (FSMS).
FSM assists businesses in the planning, managing, and optimising of field services such as maintenance and repairs. For example, FSM helps businesses communicate promptly with their customers, organise maintenance records, locate technicians, monitor stock and tools and manage safety and compliance.
FSM, SLAs and work order management
Work orders are fundamental to field service management. Once a staff member or customer triggers a work order, the maintenance workflow should kick into action. The trouble is, there are many different types of work orders, including:
Inspections
Preventive maintenance
Emergency
Electrical
Safety
Special projects
And then, each work order will contain information on the asset in question, the task/service required, who it's assigned to (assignee), priority, parts and tools required, health and safety notes and any other essential information.
That's a lot – which is why FSM software is crucial. By centralising the above work order processes, you can build slick workflows that deliver on service level agreements (SLAs), which brings us to the next point.
Maintenance must adhere to SLAs that establish expectations and guidelines for completing the work.
For example, you can set up SLAs with deadlines for lift inspections, replacing fire extinguishers, HVAC maintenance, etc.
Deliver on expected outcomes and keep customers happy. It's perhaps unsurprising that SLA performance is one of the top benefits of FSM implementation.
FSM challenges
Field service managers face numerous challenges associated with managing complex remote teams across a huge range of maintenance tasks.
The truth is, many businesses still lack FSM software. For example,
Verizon
found that FSM software can boost ROI by 32% after just six months of use, but remarkably, 25% of businesses still don't have a software solution in place.
The field service industry depends on tools to empower technicians with autonomy while providing visibility over tasks and processes, but investing in the right tools is essential. At a minimum, it's essential to ensure that FSM tools are mobile-compatible with real-time tracking and feature built-in messaging services and notifications.
Then, sophisticated data centralisation and integration is critical, which next-gen IMMPs like Infrapeak enable via artificial intelligence (AI) and hardware integration. Networking FSM processes with IoT sensors for preventive maintenance reflects a new horizon in business uptime and productivity.
How IMMPs can help
Intelligent maintenance management platforms like Infraspeak go above and beyond typical FSMS to fully connect people, buildings, assets, software and IoT hardware. They act as platforms – all-in-one solutions for end-to-end maintenance management.
IMMPs leverage data using AI to extract insights and unlock efficiencies, whether through analysing asset lifecycles, technician dispatch time, mean time to repair (MTTR) or mean time to failure (MTTF).
Infraspeak's platform doesn't just ingest and create data from the maintenance management process, but it also displays insights in intuitive graphs and dashboards.

Curious to know more about it? Have a quick chat with us here!
Lack of control costing you time and money?
Infraspeak is the answer.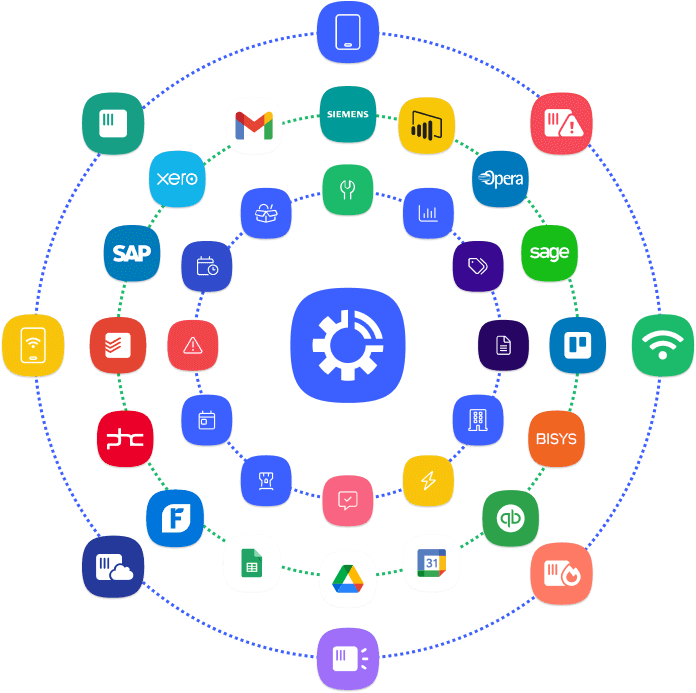 The post A complete guide to field service management appeared first on Infraspeak Blog.
Source link